Folgers 2 Liter Special Reserve Liquid Coffee Concentrate (Two Boxes)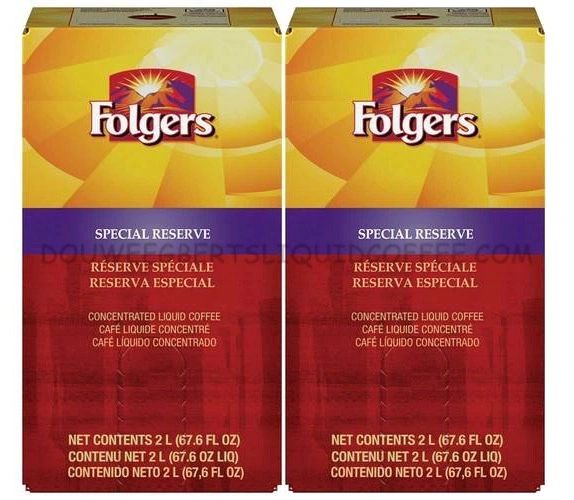 Folgers 2 Liter Special Reserve Liquid Coffee Concentrate (Two Boxes)
- This sale is for one case (2 boxes) of Folgers Special Reserve Liquid Coffee
- A smooth, round coffee with a medium roast, medium body, mild acidity, low bitterness, and a mild, pleasant aftertaste.
According to the manufacturer, this is supposed to be the exact match to the Douwe Egberts Prestige Blend. However, each individual has their own flavor palate, so we are not responsible if you think it tastes different.
- Does not work in DE C60 machine
The coffee is packed in an insulated foil bag with an ice pack and/or dry ice. When you receive it, the product may be defrosted. However, it will still be good to use. We have tested and experienced quarterly for the past 30 years with no problems when leaving it at room temperature for several days and placing it back in the fridge. If your product comes defrosted, shake it 5-10 times and place it in the freezer or fridge. Please note: There are no additives, chemicals or preservatives in the product - just coffee and water. Douwe Egberts liquid coffee is intended for commercial use. After receiving great demand from home owners, we have come up with a way to provide it to our customers. The handling instructions on the side of the box apply only to commercial users. If you have purchased this and feel that the product has been compromised, please contact us. Returns: There are no returns offered on the liquid coffee concentrate - all sales are final. This product was intended for commercial use. Due to high demand from home owners, we developed a way to use this at home. If your intention is to use it at home, results may differ from those at hotels, restaurants, etc. There are many factors that affect the taste of the coffee: - blend (Colombian, Prestige, Kona, etc.) - water quality - water temperature - ratio (liquid concentrate:water) For at home users, if you are displeased with the taste, we suggest looking at our "How to Use at Home" instructions. If you followed those instructions and still are not happy with the results, we are sorry. Unfortunately, we do not accept returns on food or beverage products.
Reviews