Six 32-Ounce Squeeze Bottles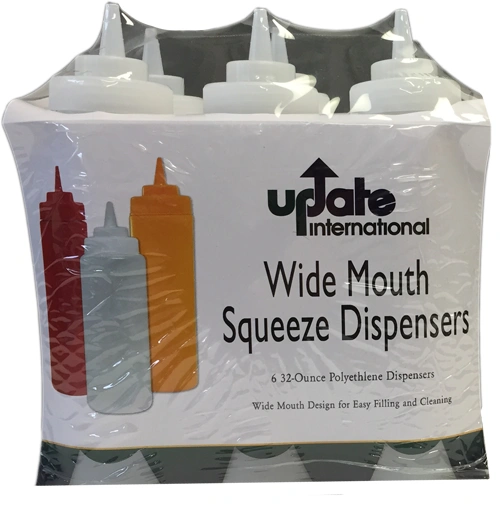 Six 32-Ounce Squeeze Bottles
Wide Mouth Squeeze Dispenser 6 32 oz Polyethylene Dispensers 
Wide mouth Designs for Easy filling and cleaning
Squeeze bottles are made of soft polyethylene material which provides excellent for faster preparation.
This innovative wide-mouth design is ideal for both back-of-house and front of house applications. Serve a variety of condiments, including tomato sauce, barbecue sauce, buffalo sauce or even olive oil and salad dressings.

Specifications:

Size: 32 Ounce
Type: Squeeze Bottles - Wide Mouth
Base: 3-1/4"
Capacity: 32 Ounce
Cup Capacity: 4
Diameter: 3-1/4"
Height: 10-1/2" 
Dimensions - H x W: 10-1/2" x 3-1/4"

This sale is for six 32-ounce squeeze bottles.
*Caps not included*
Free shipping!

Reviews